Used Car Dealer near Porterville, CA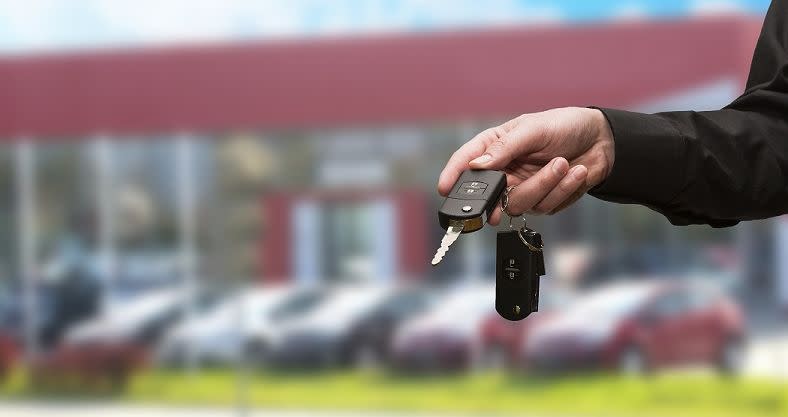 Are you currently in the market for a vehicle for you and your family, but finding it an impossible task because you can't locate one that fits your budget? If this is the case, you need to head over to your trustworthy, local used car dealer, Auto Depot. We have an abundance of used cars to choose from right here on our lot, waiting for you to take on a test drive and admire. Stop by as soon as today!
We here at Auto Depot are known for our pre-owned models that all boast a CARFAX® Vehicle History Report™, so that you know the vehicle is of topmost quality. You can even browse these vehicles right here on our website! All you have to do is move your cursor to the Our Inventory tab and select the All Used Vehicles section. At this point you can customize your search on the far left side based on specifics like make, model, year, and price range. If you want to go into even more detail, you can even pick your desired transmission, drivetrain, and fuel type. With a variety of makes to choose from like Nissan, Ford, Toyota, Honda, Lexus, and so much more, it will be easy to find the ideal used vehicle for you!
You will be able to save on money no matter your financial situation thanks to our knowledgeable Finance Department. We are here to help with the car-buying process because we know that it is not always an easy task! If you need to get in touch with a bank to apply for a loan, or you would rather pay for the used vehicle in full today, that can be made possible. To find out your purchasing power, utilize our Payment Calculator so you can get an estimate of the used car that you can afford. To make the process as seamless as possible, you can fill out the Financial Application right here on our website. All we need is information like your name, email, address, phone number, and so on. Once you hit submit, all you have to do is wait for one of our financial representatives to get in touch to let you know the next necessary steps.
What are you waiting for? At your earliest convenience, make your way to your local used car dealer near Porterville, CA, Auto Depot, to get a glimpse at our array of used car inventory. With the endless amount of options to choose from, it is easy to find the vehicle that is perfect for you. If you have any questions, you can call us at 877-702-2255, or, better yet, stop by the store to speak with a friendly staff member in person!
Testimonials
YELP
6-5-2020
GOOGLE
6-4-2020
GOOGLE
6-4-2020
GOOGLE
6-3-2020
GOOGLE
5-25-2020
GOOGLE
5-24-2020
YELP
5-24-2020
GOOGLE
5-6-2020
YELP
4-28-2020
GOOGLE
4-17-2020
GOOGLE
4-16-2020
GOOGLE
3-20-2020
GOOGLE
3-14-2020
GOOGLE
3-11-2020
GOOGLE
3-9-2020
GOOGLE
2-29-2020
YAHOO
2-29-2020
YELP
2-29-2020
GOOGLE
2-27-2020
GOOGLE
2-27-2020
GOOGLE
2-26-2020
GOOGLE
2-26-2020
GOOGLE
2-22-2020
GOOGLE
2-9-2020
GOOGLE
2-7-2020
GOOGLE
2-5-2020
GOOGLE
2-1-2020
GOOGLE
1-27-2020
YELP
1-27-2020
GOOGLE
1-26-2020
GOOGLE
1-24-2020
GOOGLE
1-15-2020
GOOGLE
1-13-2020
GOOGLE
1-10-2020
GOOGLE
1-10-2020
GOOGLE
1-9-2020
GOOGLE
1-9-2020
GOOGLE
1-8-2020
GOOGLE
1-8-2020
GOOGLE
12-31-2019
GOOGLE
12-31-2019
GOOGLE
12-30-2019
Read More